NIPPES/SOUTH-WEST OF THE WESTERN DEPARTMENT
I've broken up the département de l'Ouest, because it covers so much historical and literal ground. For more sites in this department, visit the Port-au-Prince region and Côte des Arcadins pages. Because the département de Nippes is small and I only have pictures from one of its cities, I've combined it with other sites on the northern coast of Haiti's southern penninsula. In this area, I'm also looking for: Sudre Dartigenauve house (Anse à Veau); Cave of Anacoana (Grand Boucan section of Leogane); Fort Conmpon (Morne Boutton and Morne Okap near Leogane); Fort Léogane; Fort Littoral and Fort Liberté--unless I already have them below... (Petit-Goâve); La Grotte de Séjourné (Baudin, Grand Goâve); Fort Malette, Fort Desbois, Fort Brea, Fort Reflechi--I assume I have one represented below in the park (Mirogoâne).
Click here for Petit-Goave photos
Léogâne
These photos document a brief pre-earthquake visit (August of 2009). HIghlights include: a gorgeous church, the Mairie, cannons in the central rotary. I had hoped to find ruins of the fort Ça Ira, but I had no luck and was told that the sea had eroded what was left.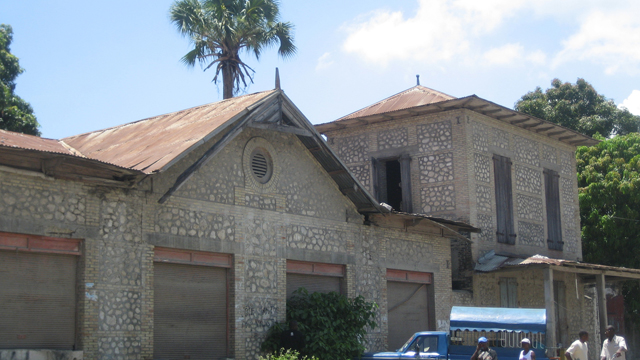 Mirogoâne
Mirogoâne, in addition to being a major port city–particularly for those who wish to avoid Port-au-Prince–has an interesting topography. The city center lies in a scoop of land at the bottom of steep hills. The angle is partially visible in the angle of a tap-tap's roof against the Mairie in the first photo. Highlights in the gallery include: the Mairie, the Cathedral on the Place d'Armes, and Mirogoâne's lovely hill-top park, which has been built on top of, and partially refurbishes, an old fort, The park's walls are intended to evoke the fortification with their crenelations. An unusual statue/memorial at the center of the park has several cannons built into it.