Fort Royal
Along the seashore west of Petit-Gôave lies Fort Royal (called Fort Liberté by locals I met). The biggest part of the ruins–what looks like an old armory–is nearly buried by bushes. It looks like a big version of powderhouses I've seen elsewhere in Haiti. The side of the building has brick and stone buttressing. I'm not sure if it had a structural, defensive, or decorative purpose, but it's the only thing like it I've seen in Haiti. In addition to this major building, there are a few low walls and some foundation remnants, and 2 cannons lie nearby ignored by all except a goat.
Relais de l'Empereur
The Relais de l'Empereur was a beautiful old hotel located on the corner of Rue Republicaine and Rue Louverture off of the city plaza and was destroyed in the earthquake. Named for Haiti's Emperor Faustin Souloque, this was an old building, but some historians think that its heritage as Faustin's "palace" is apocryphal. The 3rd floor was added by hotel impresario, Olivier Coquelin. In the 1970s and early '80s, French disco-club owner Coquelin turned Habitation Leclerc in Martissant, Port-au-Prince, and the Relais into hedonistic hot spots. The photos from French Vogue etc. that still lined the walls when I visited in 2009 were a real homage to excess. The hotel also owned Cocoyer Plage, a boat ride away. With a pool and bar and beach, the photos of that site are equally fascinating. The details in the hotel were all bizarre: a real tiger skin on the wall; gorgeous brass elephant details on the bar; various antlers on the wall in the bar; Haitian art mixed with polo clubs and framed photos of topless women; "artsy" porn shots lined the walls, while the wall sconces were made from tusks. All the rooms had 4-poster beds and balconies, mahogany sink and tub stands, and gold-plated Kohler faucets (although there was no running water during my visit).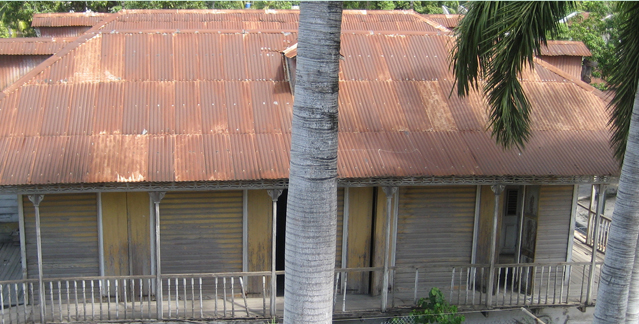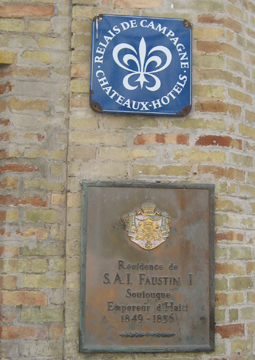 Petit-Goâve general
All photos of Petit-Gôave were taken in June 2009, just before the earthquake. Many of these buildings are destroyed. Highlights of this gallery include: an unusual Jesuit-style church, the most quaint Teleco office in Haiti (but Teleco's quaintness was part of the problem, wasn't it?), Hotel de ville, and the Dames Battery. The yellow concrete statue and marble plaque off of Rue Petion mark this seaside fortification. The statue was constructed in 1954 and was in great shape and well-maintained as of 2009. The plaque reads: "1954 Hommage de la ville de Petit-Goave au Faustin 1er Empereur d'Haiti 1847-1859." Alas, the plaque offers no information on the battery itself.
Fort Cari (?)
This small fortification was called Fort Cari by locals (I've seen Fort Gary elsewhere). It's on a hill above Petit-Goave (south). There is one small intact building–filled with plastic flower offerings at the time of my 2009 visit–and, at the top of the hill, within the ruins of an old foundation, a memorial installed by President Magloire in 1954, the country's 150th birthday. This must have been put up at the same time as the one for Souloque at the Dames Battery downtown (you can barely make it out, but the engraver's name is the same–G. Hermantin). This marble plaque reads: "30 Mars 1803 Borno Lamarre Romain Eveillard Brouard Clermont Fremont Paul Magloire President 1954."