SOUTH
In addition to its tremendous beauty, the south has amazing historical sites--ranging from the shell mounds on Île à Vache to the fort in the middle of the bay of St. Louis du Sud to the Fortresse des Platons high above the plain of Les Cayes. Additionally, the area has a number of beautiful caves and waterfalls--some pictured here. In this section, I'm also looking for pictures of: La Batterie Saint-Eloi at the Pointe des Mangles (St Louis du Sud); Fort on summit of Morne-Rouge (Aquin); Plantations: Raimond, Casamajor, Depas-Medina, Grande Colline, Colline à Magnon (Aquin); Grotte Marie Jeanne (Port à Piment); Grotte Moreau (Port Salut); Camp Prou and Camp Boudet (Camp Perrin); Fort near Cavaillon on way to Bon à Dos.
Click below for Cayes photos, including the downtown and many sites on the surrounding plain
St Louis du Sud
St Louis du Sud is an underappreciated historical treasure of southern Haiti. In addition to a dozen or so cannons in the main square, there are supposedly a half-dozen forts nearby. Fort Olivier, just west of town, is easily accessible, and its palm-tree-covered peninsula is visible from the town center. Fort St Louis, in the bay, is accessible by boat (it was called Fort Anglais by those I met in town, presumably because it was built by the English). Locals told me that an earlier group came and surveyed the historical sites, but a midnight raid of the island fort quickly followed, and a bronze cannon was carried away by helicopter. I haven't been able to verify it, but the story made them at first suspicious of people asking about cannons. Out on Fort Saint-Louis, you can see both the rusting embrasures indicating cannons were there as well as the sense of permanence to which the architecture attests. The Brits thought they were staying and would fight to keep Haiti, particularly Southern and Western Haiti, through the Revolution. My thanks to a kind man from Port Salut, Benoit du Kerlange, who walked around with me that day. ISPAN's bulletin #15 explores the site fully with maps and history.
Conoubwa and Saut Mathurin
The caves at Conoubwa are across the river from the southern end of Camp Perrin. After you ford the river, it's only a 20 minute walk or so to reach the caves. When I visited, there was a caretaker (pictured here) living nearby who led us in for a fee. The cave area was locked and protected, and there were benches inside the park entrance for visiting school groups. Despite the current protection, there was graffiti inside the cave, and any pre-Columbian artifacts are long gone. Saut Mathurin is easily accessible from the road between Camp Perrin and Jeremie. I walked from Camp Perrin, and it was only about 2 hrs if I remember correctly, so it should be a relatively short drive.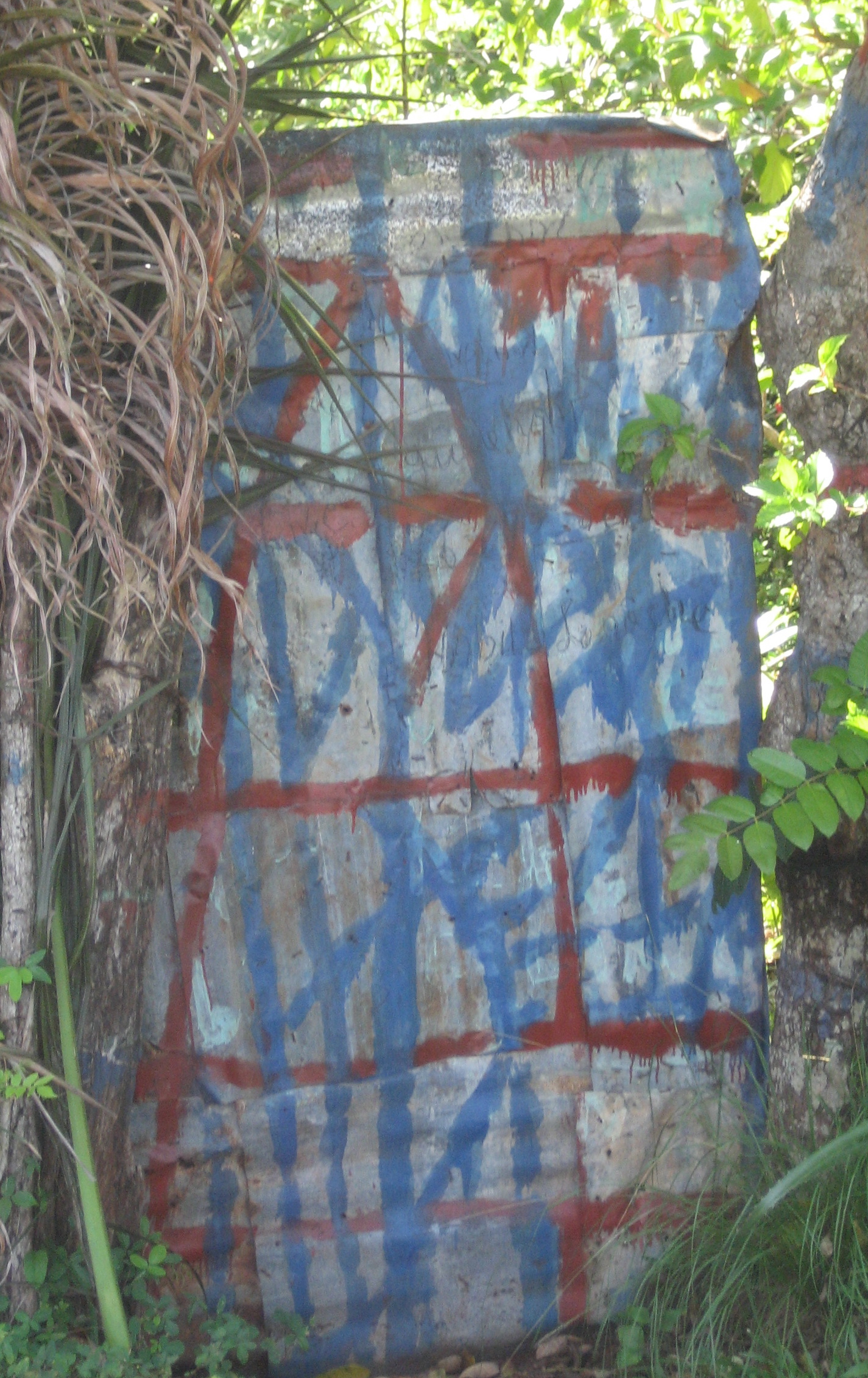 Camp Gérard
On the road from Les Cayes to Camp-Perrin, Camp Gérard is the location of an important battle during the Revolution, noted by a plaque placed in 2006. Near the fort ruins, several buildings: one a ruin, a couple that have been refurbished and are in use, and an étuve. Currently, tobacco production has taken over much of this space. One of these pictures shows an entrance to a long tunnel that goes from the house under a road for several hundred feet, ending in a nearby field. Some young men from town told me that it was for the colonists to escape, but it is likely just colonial plumbing. I saw a similar tunnel in Quartier Morin outside Cap-Haïtien, and I've seen a much more extensive one at the Laborde plantation in the Camp-Perrin region (see the Cayes page).
Fortresse des Platons
This is an impressive fort and a beautiful hike. On the road south from Cayes, turn inland at Torbeck towards Chantal and Dussis and towards Dubreuil, ford the river, and continue on by moto (if you can--we got a motorcycle over the river) for a bit on a rocky path until it's no longer passable (my notes say the area is called La Pretre), and then it's a 2 to 2 1/2-hour hike or so (depending on how many coconut water stops you make). There are beautiful views down the valley and onto the bay and onto Ile à Vache; they picked well The fort is vine-covered, but there are 3 cannons still there, a squat building (a poudrière?), the tomb of revolutionary general Geffrard, and an underground/vaulted tunnel area of the fort.
Ile à Vache
Pre-Columbian shell mounds near Cay Coq. Suggested to me by Clark Moore. Approximately eight feet tall and 400 square feet around. These shell mounds are being scooped out from the center for decoration, jewelry-making, etc. Given the changes coming to the island (new airport, new hotels), I wonder if this interesting site will be protected. There are underwater artifacts just off shore that are probably vulnerable as well.