Fort Blockus/Blockhaus/Brisbane and Fort Diamant/Churchill
2 former British--then-Haitian--forts (I think) at the northern end of town guard the bay of St. Marc. The first fort (first 6 pictures) faces south-west towards the bay and Amani beach. I've seen it called Fort Blockus most often (but also Blockhaus/Blaukaus and possibly Fort Bel-air). Fort Diamant is on the top of Point Diamant, at the northern edge of Saint-Marc. The short, steep approach to the fort is accessible by foliowing the coast past the former lard-rendering factory and via the abandoned beach area.
According to Michael Heinl, two forts on the north side of town were called Fort Brisbane and Fort Churchill by the British. I've read that Fort Diamant was also called Fort Churchill, so I assume the other is Brisbane… Also of interest are the small fortifications in the miscellaneous gallery below. Not sure if they are from colonial times or perhaps even the Marine Occupation.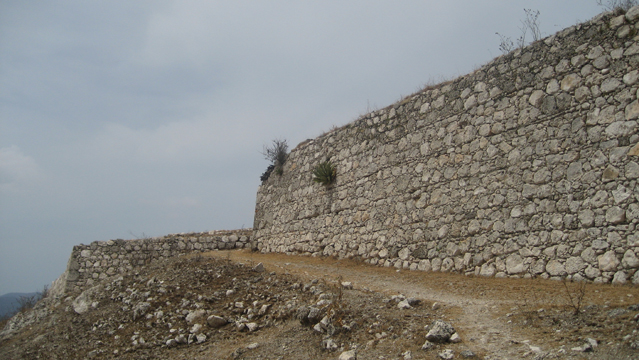 St Marc general
This miscellaneous gallery includes pictures of fortifications in the hills (date of installation unknown--Marine occupation?---please send information if you know more), some pictures of a friend's house on Rue Pivert, and some miscellaneous pictures of extant sugar mills and bagasse (the sugar cane refuse of sugar production) in the St Marc valley.
Habitation Guillon
This mill lies in the valley of Saint-Marc, 15-20 minutes by motorcycle behind the town itself. It is discussed but not photographed in this article from the Ministry of French Patrimony. The machinery says: Fawcett, Preston, & Co. Liverpool 1860 The aqueduct is in good shape as are some of the buildings, and I was surprised to see roof tiles and much original still intact in March 2007 (when these pictures were taken). I've heard it's deteriorated significantly since then.
Habitation Pivert
This mill, on the north side of Rue Pivert (aka Avenue Jean-Jacques Dessalines) in St. Marc, includes machinery which says: "John Gordon & Co. London Order 209458." See photos for detail of this and the rest of mill. From William H Ukers' All About Coffee : "John Gordon & Co. began the manufacture in London of the line of plantation machinery still known around the world as 'Gordon make' in 1850; and John Gordon was granted an English patent on his improved coffee pulper in 1859." Find more on this location here in ISPAN's bulletin # 27.