NATURAL WONDERS
This section covers areas of natural interest, and I'll probably include some items of archaeological interest here as well (at least until I've collected enough for them to deserve their own page). See Sites/Photos needed for a list of more sites I'm searching for.
Ile à Vache
Pre-Columbian shell mounds near Cay Coq. Suggested to me by Clark Moore. Approximately eight feet tall and 400 square feet around. These shell mounds are being scooped out from the center for decoration, jewelry-making, etc. Given the changes coming to the island (new airport, new hotels), I wonder if this interesting site will be protected. There are underwater artifacts just off shore that are probably vulnerable as well.
Bassin Bleu (Jacmel, South-east)
Only 1 picture here as I haven't visited since the advent of digital cameras...
Conoubwa and Saut Mathurin (Camp Perrin, South)
The caves at Conoubwa are across the river from the southern end of Camp Perrin. After you ford the river, it's only a 20 minute walk or so to reach the caves. When I visited, there was a caretaker (pictured here) living nearby who led us in for a fee. The cave area was locked and protected, and there were benches inside the park entrance for visiting school groups. Despite the current protection, there was graffiti inside the cave, and any pre-Columbian artifacts are long gone. Saut Mathurin is easily accessible from the road between Camp Perrin and Jeremie. I walked from Camp Perrin, and it was only about 2 hrs if I remember correctly, so it should be a relatively short drive.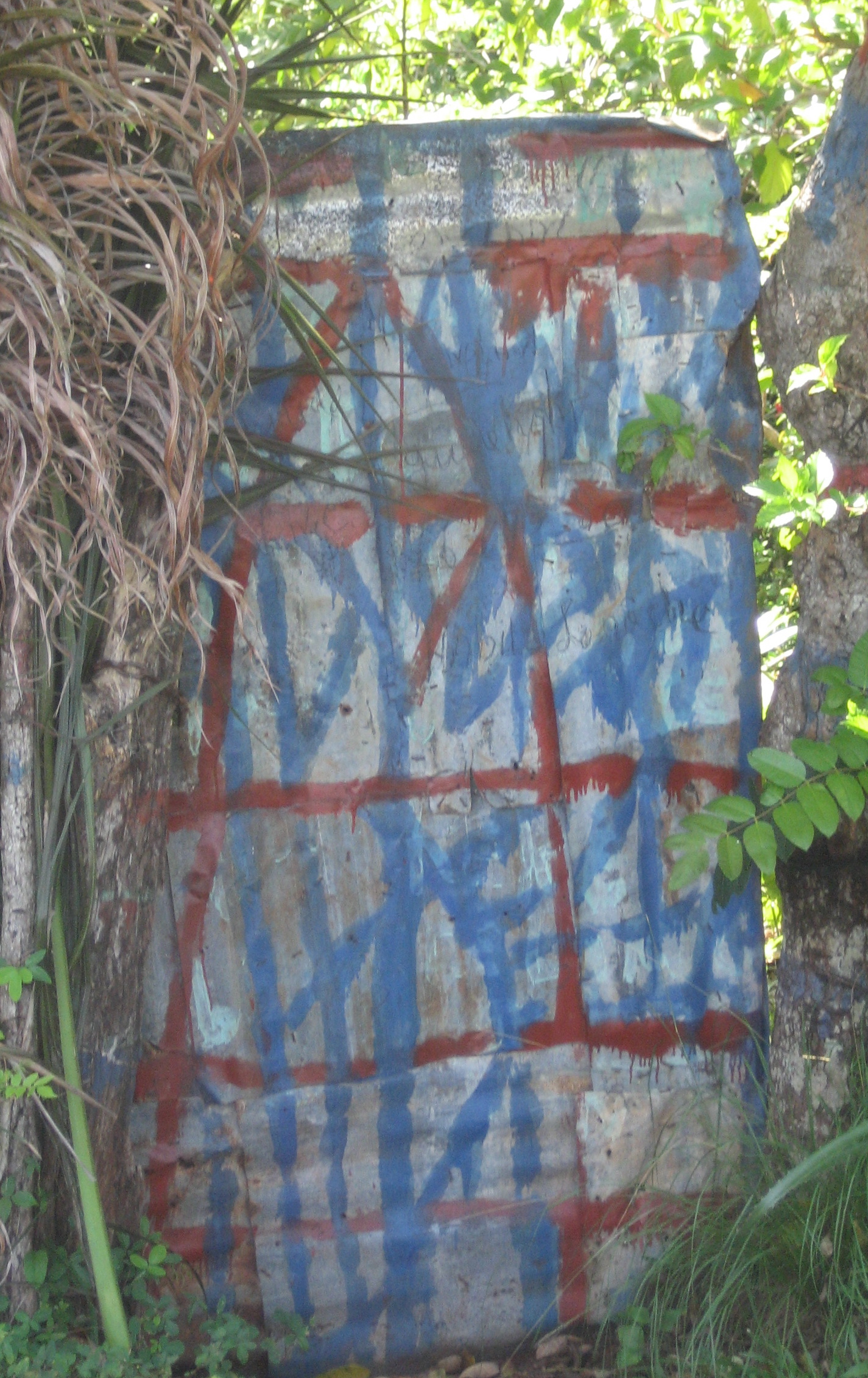 Grotte La Croix (North-east)
Curtis Rogers generously shared these photos of the cave at La Croix, south of Port de Paix. Apparently, there were no pre-Columbian relics left in the cave, but it is used as a site of worship (both situations similar to other caves across Haiti).
Saut d'eau (Ville Bonheur, outside Mirebalais, Central)
Saut d'eau in Ville Bonheur is near Mirebalais up in the hills off the road between Mirebalais and Pont Sondé/St. Marc. The big fête is held every year on July 16th and is a multi-day, much-photographed event. This is a relatively well-protected site, with a gate and cement sidewalk and steps down to the waterfall. There is a small fee at the entrance. In one photo, a man sits among the cast-off clothes of serviteurs. There were people on pilgrimage to the falls, but it seemed blasphemous to take a picture of something so sacred and intimate and personal…
Fort Culbuté/Source Culbuté
The ruins of the fort center around Source Culbuté, a spring used both for drinking and a site of religious pilgrimage. The photos in this gallery were generously shared by Barry Proctor. This site is the most accessible one in town and is at the western edge.