FORTIFICATIONS
Whether the European-constructed coastal forts or the mountain-top forts envisioned by Dessalines, Haiti's forts are often in some of Haiti's loveliest places, and many of them serve double duty as places of worship (in particular, poudrières across the island). Cannons forged in Europe, won back by the soon-to-be-Haitians, and then used back against colonial powers tell a powerful story and still remain in place in many locations. I've included below all the major forts with their own galleries. See also: La Petite Batterie in Jacmel (South-east), Fort Ilet and Fort Tourterelle (Cayes, South), Fort Belly/Belli in Labadie (North), the Dames Battery in the Petit-Goâve general gallery, the fort built into the park in downtown Mirogoâne (both Nippes/SW of Ouest). See Sites/Photos needed for a list of more forts...
Fort Ogé

(Jacmel, South-east)
Fort Ogé is named for the early champion of–and martyr to–the Haitian Revolution, Vincent Ogé (or at least an early proponent for citizen's rights for people from his own class: free people of color...). A memorial to him, Chavannes, Makandal, and Boukman is in the Place d'Armes in Cap-Haitien. This fort is about a 15-minute motercycle ride and an hour's hike outside of Jacmel. These pictures were taken during the weekly soccer game.
Fort Jacques and Fort Alexandre

(Fermathe, Port-au-Prince region)
These two forts up in Fermathe are part of the long line of fortifications ordered by Dessalines up and down Haiti's mountains. I don't have any good pre-earthquake pictures, but these included here show the sites in August 2010. ISPAN's pre-earthquake bulletin #7 discusses Fort Jacques. I've seen in the ISPAN bulletin that rehabilitation of Fort Jacques, the more damaged of the two, is well under way. ISPAN's Bulletins #9 and 26 show post-earthquake destruction and reconstruction.I've seen in the ISPAN bulletin that rehabilitation of Fort Jacques, the more damaged of the two, is well under way.
Fort Liberté (North-east) is, as the name suggests, a heavily fortified town. Click below to see the town's page.
St Louis du Sud (South)
St Louis du Sud is an underappreciated historical treasure of southern Haiti. In addition to a dozen or so cannons in the main square, there are supposedly a half-dozen forts nearby. Fort Olivier, just west of town, is easily accessible, and its palm-tree-covered peninsula is visible from the town center. Fort des Anglais, in the bay, is accessible by boat. Locals told me that an earlier group came and surveyed the historical sites, but a midnight raid of the island fort quickly followed, and a bronze cannon was carried away by helicopter. I haven't been able to verify it, but the story made them at first suspicious of people asking about cannons. Out on Fort des Anglais, you can see both the rusting embrasures indicating cannons were there as well as the sense of permanence to which the architecture attests. The Brits thought they were staying and would fight to keep Haiti, particularly Southern and Western Haiti, through the Revolution. While someone in town told me Fort des Anglais was built in 1611, I've read 1753. My thanks to a kind man from Port Salut, Benoit du Kerlange, who walked around with me that day. ISPAN's bulletin #15 explores the site fully with maps and history.
Camp Gérard (Camp-Perrin, South)
On the road from Les Cayes to Camp-Perrin, Camp Gérard is the location of an important battle during the Revolution, noted by a plaque placed in 2006. Near the fort ruins, several buildings: one a ruin, a couple that have been refurbished and are in use, and an étuve. Currently, tobacco production has taken over much of this space. One of these pictures shows an entrance to a long tunnel that goes from the house under a road for several hundred feet, ending in a nearby field. Some young men from town told me that it was for the colonists to escape. I saw a similar tunnel in Quartier Morin outside Cap-Haïtien, and I've seen a much more extensive one at the Laborde plantation in the Camp-Perrin region (see the Cayes page).
Fortresse des Platons (Dussis, South)
This is an impressive fort and a beautiful hike. On the road south from Cayes, turn inland at Torbeck towards Chantal and Dussis and towards Dubreuil, ford the river, and continue on by moto (if you can—we got a motorcycle over the river) for a bit on a rocky path until it's no longer passable (my notes say the area is called La Pretre), and then it's a 2 to 2 ½-hour hike or so (depending on how many coconut water stops you make). There are beautiful views down the valley and onto the bay and onto Ile à Vache; they picked well The fort is vine-covered, but there are 3 cannons still there, a squat building (a poudrière?), the tomb of revolutionary general Geffrard, and an underground/vaulted tunnel area of the fort.
Fort Cari (?)

(Petit-Goâve, Nippes/South-west of Ouest)
This small fortification was called Fort Cari by locals. It's on a hill above Petit-Goave (south). There is one small intact building–filled with plastic flower offerings at the time of my 2009 visit–and, at the top of the hill, within the ruins of an old foundation, a memorial installed by President Magloire in 1954, the country's 150th birthday. This must have been put up at the same time as the one for Souloque at the Dames Battery downtown (you can barely make it out, but the engraver's name is the same–G. Hermantin). This marble plaque reads: "30 Mars 1803 Borno Lamarre Romain Eveillard Brouard Clermont Fremont Paul Magloire President 1954."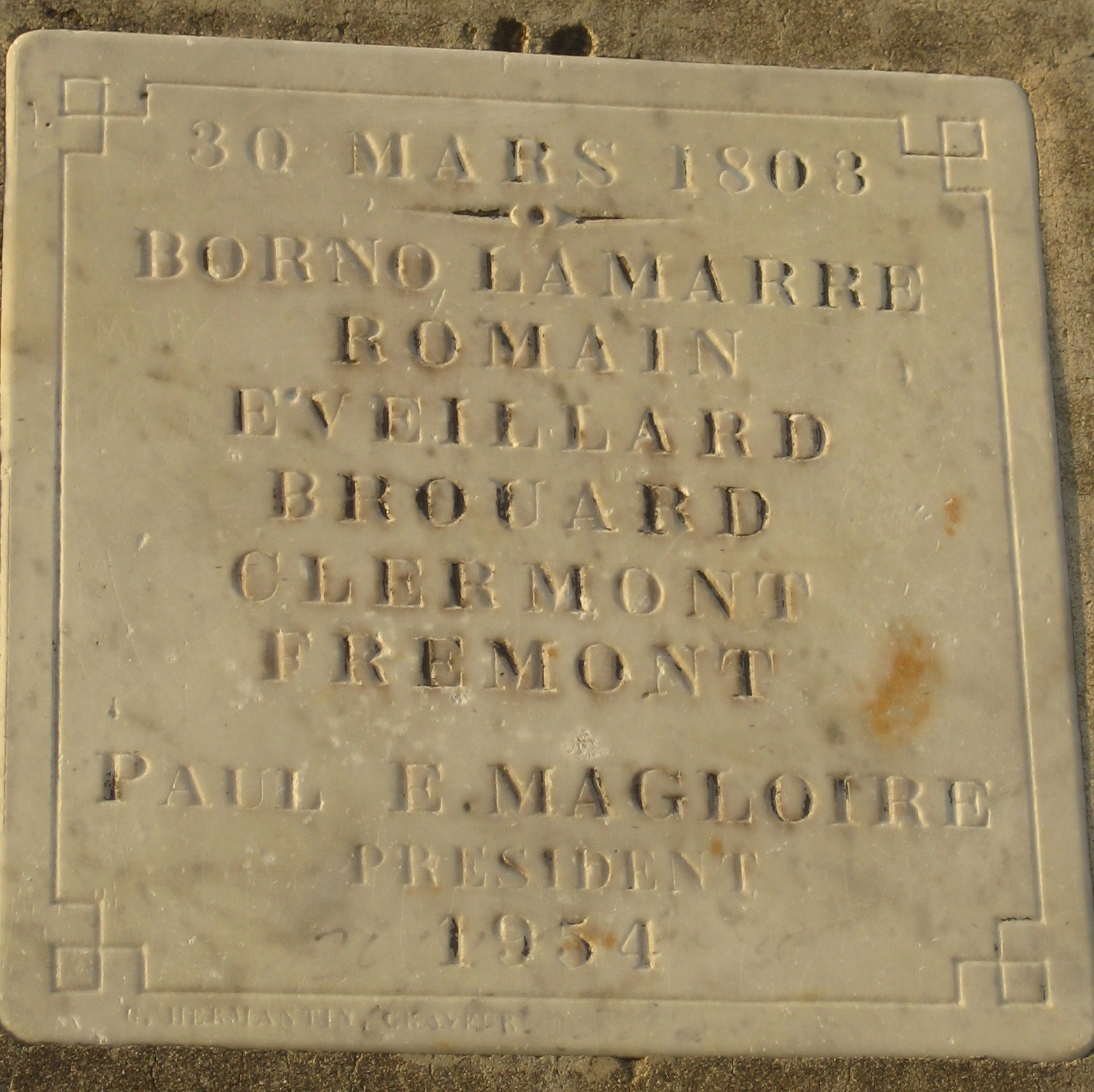 Fort Royal

(Petit-Goâve, Nippes/South-west of Ouest)
Along the seashore west of Petit-Gôave lies Fort Royal (called Fort Liberté by locals I met). The biggest part of the ruins–what looks like an old armory–is nearly buried by bushes. It looks like a big version of powderhouses I've seen elsewhere in Haiti. The side of the building has brick and stone buttressing. I'm not sure if it had a structural, defensive, or decorative purpose, but it's the only thing like it I've seen in Haiti. In addition to this major building, there are a few low walls and some foundation remnants, and 2 cannons lie nearby ignored by all except a goat.
Fort Drouet and Habitation Lamothe

(Cortade, Côte des Arcadins)
In the Delices region, in the mountains above Côte des Arcadins, Fort Drouet and Habitation Lamothe were recently made significantly more accessible by the new road between Cabaret on the coast and La Chapelle in the Artibonite valley. ISPAN has marked it with signage, assigned caretakers, and written about it in a recent bulletin (see resources). The fort is one of the string Dessalines envisioned lining the mountain chain, and I could just barely make out Fort Delpeche (see below) to the north. See the coffeehouses of Kotad link below for more photos (and a detailed post) of coffee houses in this region by Barry Procter.
Fort Delpeche

(Côte des Arcadins)
Less accessible than Fort Drouet, Fort Delpeche is just to the north. Barry Procter kindly shared these photos below. Right now, it is only accessible by a brave 4 x 4, but perhaps a motorcycle—and certainly a donkey or someone on foot—could make it too. Barry estimated the route from the highway to the fort was 2 hrs; its inaccessibility means it is also in good condition, however.
Marchand-Dessalines (Artibonite) is encircled by 6 forts; click below to visit its page.
Fort Blockus/Blockhaus/Brisbane and Fort Diamant/Churchill

(St Marc, Artibonite)
2 former British—then-Haitian—forts (I think) at the northern end of town guard the bay of St. Marc. The first fort (first 6 pictures) faces south-west towards the bay and Amani beach. I've seen it called Fort Blockus most often (but also Blockhaus/Blaukaus and possibly Fort Bel-air). Fort Diamant is on the top of Point Diamant, at the northern edge of Saint-Marc. The short, steep approach to the fort is accessible by foliowing the coast past the former lard-rendering factory and via the abandoned beach area.
According to Michael Heinl, two forts on the north side of town were called Fort Brisbane and Fort Churchill by the British. I've read that Fort Diamant was also called Fort Churchill, so I assume the other is Brisbane… Also of interest are the small fortifications in the miscellaneous gallery on the St Marc (Artibonite page). Not sure if they are from colonial times or perhaps even the Marine Occupation.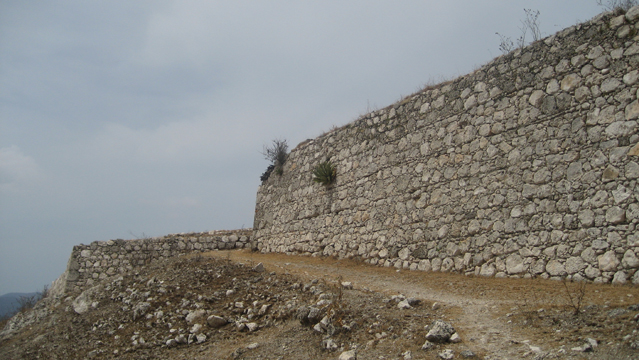 La Crête à Pierrot (Petite Rivière de l'Artibonite)
The fort was held by Dessalines in the 1802 siege by the French. See this map for a detailed view of the battle. The small building within may be the old powder magazine. It was locked during my last visit (2007), and a woman who cleaned the area told me there were lots of djab (devils) inside. I've included several views from the fort, which emphasize its strategic importance. The Edgar La Selve manuscript, written by the Haitian professor about his countryside travels in 1871, says the fort was built by Laplaine Sterling and Guy the Elder; at the time they were quarreling with Borel (for whom the nearby town must be named). The text also notes that some of the fortifications were later added by Christophe, when he had his palace built below. La Selve mentions the mahogany tree in 1871 and calls it a 100-year old tree and witness to the fighting… The cannons have lots of clear detail. Of note: Nevers (probably refers to Nevers, France, where it was made);anchor and RF (I assume the RF stands for République Française). ISPAN did bulletin #22 on this site in 2011.
Fort Anglais, Mirebalais

(Central)
This fort is near the Ecole Jean Philippe on the eastern side of town on a relatively small hill. The British occupied and held this town in their attempts to maintain the entire Artibonite from here down the valley to Saint-Marc. Although the hill is small, the whole surrounding plain is clearly visible. The white and blue is evidence of the worship of the Virgin Mary by the Catholics who regularly pray on this hill.
The Northern tip of Cap-Haïtien (North) is heavily fortified. Click below to see the forts page.
Citadelle Laferrière (Milot, North)
Again, Curtis Rogers has provided lots of beautiful photos (I've included some of my own too). All of his Sans Souci pictures are more recent than mine (and most are a lot prettier too...). ISPAN and UNESCO put out a gorgeous coffee table book on the Citadelle a couple of years ago, detailing its history, restoration, etc. Of particular interest to me were the stories behind the gorgeous bronze cannons. If you can get a hold of this book (in French, English, and Spanish), it's well worth it. As I mention above, ISPAN covers the Milot sites often, but the following bulletins have at least a partial focus on the Citadelle: #3, #8, #11, #14, #23, #24, #28, #29 (Ramiers), #35 (latest renovation).